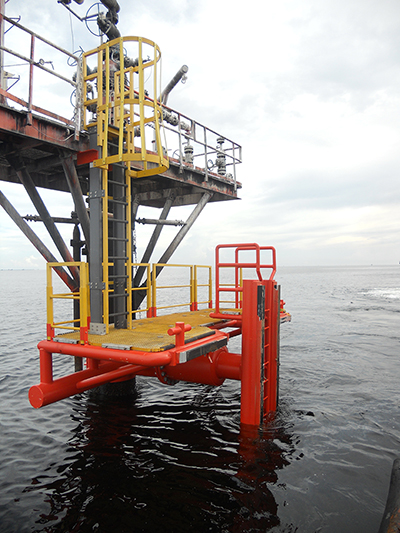 FEATURED PROJECT
Fabrication of Offshore boat Landings for Trinmar
Trinmar workers faced a potential safety issue their when boarding offshore platforms. The platforms had chain link ladders that the workers used to disembark the service boats and transport tools to the platforms.
H.J. Stauble was tasked with surveying the platforms and fabricating a solutions to allow the Trinmar workers to disembark the service boats and safely transport tools and equipment to the offshore platforms.
The solution was the fabrication and construction of several specialised shock-absorbing offshore boat landings that allow the service boats to dock safely along side the landing platform. These specialised landings also allow workers to disembark safely while wearing their tool belts or carrying specialised equipment. The old chain link ladders were replaced with steel ladders with safety cages ensuring the protection of the Trinmar workers going about their duties.
BP Trinidad and Tobago LLC
Bechtel International Inc.
EOG Resources Trinidad    Limited
Carib Glass Works
BHP Petroleum Trinidad Ltd
Kellogg Pan American Corp.
Shell
Caribbean Methanol Co
Petrotrin (All Areas)
National Gas Co. of T& T
Trinmar Limited
Trinidad Contractors Ltd
Lange Ballast
Proman GmbH
Coca-Cola
Ready Mix Trinidad
Electrical Industries Limited
National Flour Mills
Global Marine
Phoenix Park Gas Company
Venture Production
Analysts Overseas S.A.
Schlumberger Trinidad Inc.
Pan American Standard Brands
Caribbean Ispat
Trinidad Distillers Limited
Caribbean Development Company
Nucor Iron Carbide
Ansa McAL  Chemcials
TOFCO